Nobody loves sitting water in the yard. Whether it's a result of compact/clay subsoil, a sloping landscape, or seasonal rain, poorly drained soil can lead to a muddy aesthetic issue. Or worse: it  can create foundation issues within your home. 
Planting is a smart way to combat wet soil and hide these areas across the landscape. You may have learned the hard way that some plants can't survive too much moisture. Luckily, others thrive in it. With careful selection of plants that work in Ohio planting zones, it's possible to turn messy, moisture-rich areas into flourishing focal points. To get you started, we've compiled a list of trees, shrubs and plants that help with drainage in these wet locations.
Trees
Enjoy any of these tall, transforming beauties in your moisture-rich areas. 
River birch

trees naturally grow along river banks, but they work well in almost any U.S. landscape. This is the most borer-resistant birch. Once mature, its unique bark begins to curl and peel. The tree grows 40 to 70 feet high.

Red maple

trees offer stunning color year-round and grow as tall as 60 feet. Leaves appear with a red tinge but turn green, then deep red or yellow in the fall. During the winter, the tree's green stems turn red. Clusters of small red (sometimes yellow) flowers appear from winter to spring.

The black gum tree (also known as a black tupelo) delivers incredible summer and fall color with yellow, orange and purple hues that most other trees can't compete with. The bark is often said to resemble alligator skin. Mature trees reach 30 to 50 feet tall.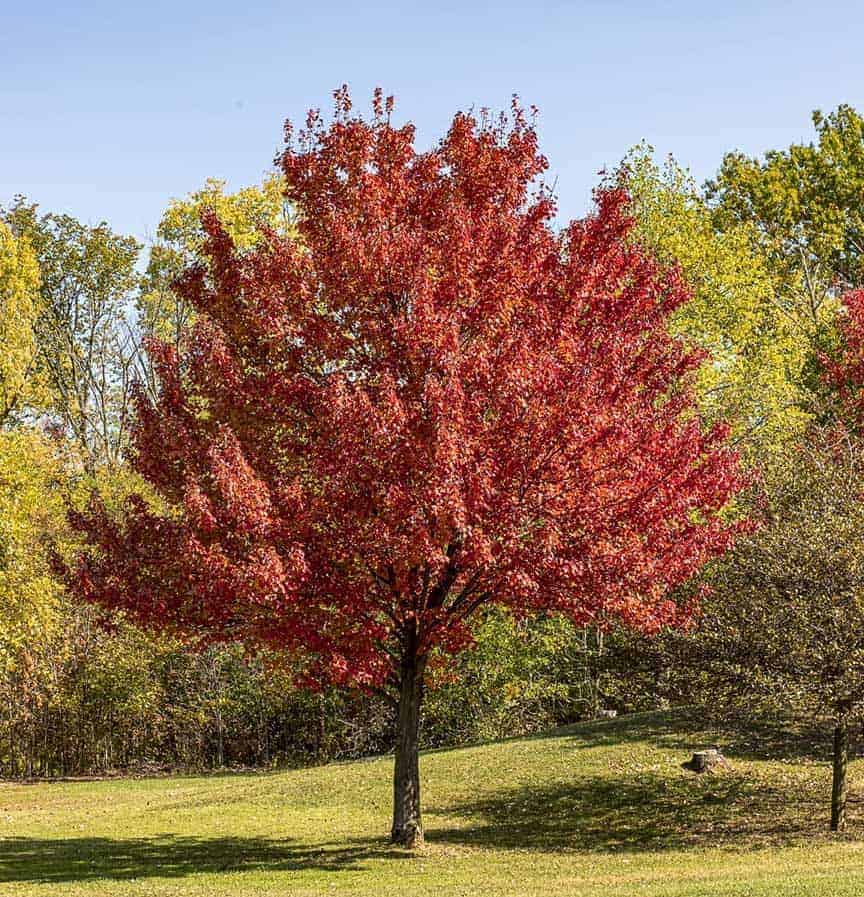 Shrubs 
Don't have the vertical space for a tree, but want similar drainage capabilities? Utilize any of these flowering shrubs. 
Northern spicebush

is a fast-growing 6- to 12-foot tall shrub for shady spaces. Dense clusters of tiny, pale yellow flowers bloom before leaves and aromatic glossy red fruit. 

Red twig dogwood

s add stunning color to the winter garden. After foliage falls off, the green stems turn bright red. The 8-foot tall shrub comes to life each spring with creamy-white flowers and green berries. 

Swamp milkweed

requires full sun; Perfect for planting in the cool weather of fall or spring. This shrub attracts monarch butterflies and grows beautiful clusters of fragrant pink and purple flowers.

Rose mallow also requires full sun and Deer-resistant, perfect along the edge of streams or ponds. Beautiful 4- to 5-inch wide white or pink flowers appear on 4- to 6-foot tall shrubs.
Plants
Create colorful flower-bed borders or line the edges of a drainage ditch with these moisture-tolerant plants. 
Globeflowers

are

perennial wildflowers that often appear in masses next to lakes and streams. They do well in borders where soil doesn't dry out and hold up in a vase, too. The bright yellow flowers are among the first wildflowers to arrive after spring snow melts.

Monkey flowers

are wildflowers that resemble a monkey's face. These are colorful, often spotted blossoms like as much sun as they do moisture and need plenty of each to thrive. Plant them along stream banks or as a border and enjoy flowers from spring until fall.

Japanese Iris

grows higher than any other iris at 24 to 48 inches tall. Find this flowering perennial in a range of colors and give it a spot in full sun to part shade.

The daylily is a popular (and durable) plant that works well in more zones than any other on our list. The reblooming Stella de Oro variety delivers bright yellow flowers all season long. Oddly enough, these daylilies tolerate wet landscapes and survive in droughts.
Brother Grimm Landscaping Advice
Whether you need advice for selecting a few shrubs or seek an expert to craft good plans for drainage ditches, contact Brothers Grimm. We can assist you in making the most of every outdoor space, even if you think it's not suitable for planting.