Whether you're born with a green thumb, or you're a gardening novice, we've all experienced disappointing flowers. They fell victim to drought, frost or pests, and the defeat convinced you to choose a far more reliable variety in the future. Luckily, there's a plethora of easy-to-grow plants that work in various growing conditions. Look no further than our roster of low-maintenance flowers for sun, shade and pots.
Flowers in the Sun
Energize even the brightest of beds with these sun-bathing blooms.
Marigolds
A hardy, pest-resistant flower that thrives in the sun obviously deserves "gold" in its name. Marigolds are popular, drought-tolerant annuals that grow just about anywhere. Some say marigolds even deter soil worms when planted around tomatoes, potatoes, strawberries and roses. Find this native Mexican flower in red, yellow, orange and bicolor varieties.
Cosmos
Described as a quintessential cottage garden flower, cosmos are daisy-like beauties that come in seven different colors. They're so easy to grow, they even seed themselves. Cosmos don't seem bothered by pests, so they'll last all season as long as they reside in a well-draining soil. Install shorter varieties as colorful edging plants and taller varieties as back border pieces.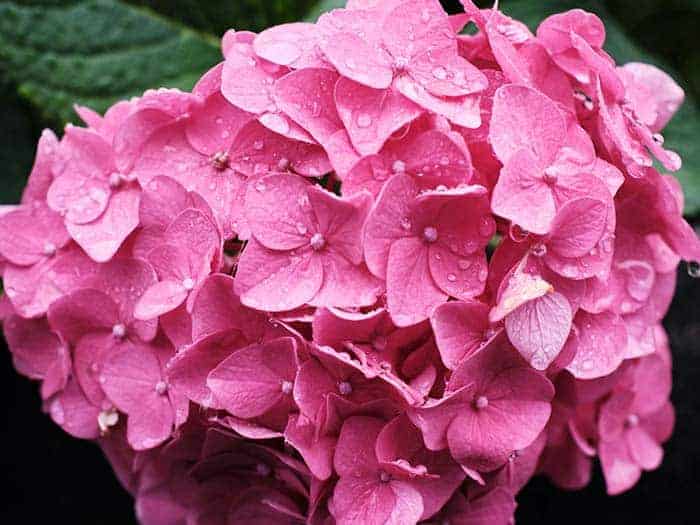 Geraniums
The sun-loving geranium offers tons of variety, but it's most commonly found as dense, carpet-like stalks that wind in and around nearby plants. Most geranium varieties start blooming mid-summer and keep re-blooming until the first frost. Without four to six hours of full sun each day, geraniums can grow taller and wider, but they'll produce fewer blooms. They're prone to mildew with damp soil, so keep them mostly dry. Look for this flower in white or shades of pink, purple and blue.
Flowers in the Shade
Can't handle the heat? Utilize these carefree flowers in your shaded beds.
Blue & White Torenia
Torenia (also known as the "wishbone flower") offers snapdragon-like blooms with blue tips and white centers with a touch of yellow. These deer-resistant and heat-tolerant flowers make excellent groundcover in shady areas. By pinching back the new growth at the end of the stems, torenia will produce blooms six to 12 inches tall all season long.
White Browallia
Whether you gravitate toward the "snow white" variety or its bright blue and purple cousins, browallia is a super fruitful and low-maintenance annual that delivers in the shade. Utilize this self-sowing flower as a front border, but keep pets away as it can be toxic to them. As another option, start browallia seeds indoors six to 10 weeks before the last frost. In that case, give them a sunny window and keep temps between 65-75 degrees Fahrenheit.
Impatiens
These bright and cheerful plants are one of the more popular annual flowers, and with good reason. Impatiens grow well in deep shade and offer delightful border coverage. They're so low-maintenance that they self-clean dead blooms and re-bloom throughout the growing season. But be diligent with water as they wilt quickly without it. Give at least two inches of water each week, or four inches when temps jump above 85 degrees Fahrenheit.
Potted Flowers
Some flowers work in the ground but really thrive in pots. Turn to these easy-to-grow options for planters and other containers.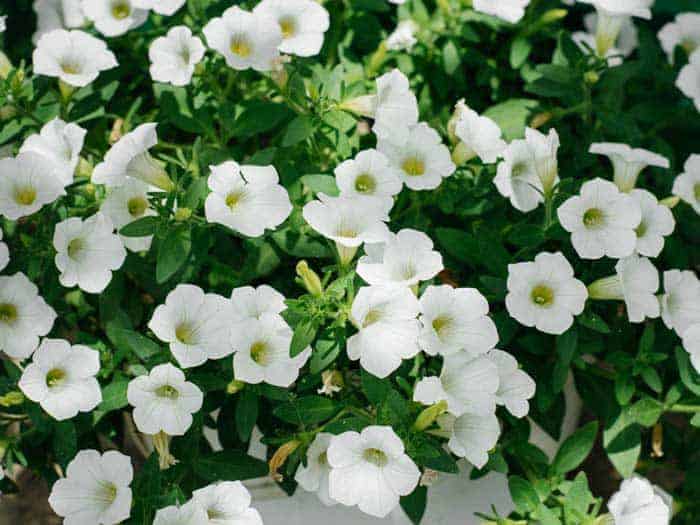 Calibrachoas
These long-blooming, bell-like flowers resemble petunias. They're heat-tolerant and thrive in pots with at least six hours of sun. Calibrachoas spread between 12 and 24 inches, so they serve as excellent "spiller" flowers in planters and hanging baskets. Make sure the soil drains well and enjoy abundant growth.
Begonias
Need a shade-loving annual that even works inside? Go with begonias. While begonias certainly work as border plants, they flourish in containers and come in many shapes, colors, and sizes. Keep soil moist, watering the base of the plant to avoid fungal disease on the leaves. Begonias also require regular deadheading (removal of dead flowers) and pinching back to stay healthy and invite additional blooms.
Mandevillas
Try something on the tropical side! The tourmaline 'pink blush' mandevilla, unlike its relative varieties, doesn't require a trellis or support. This brazilian native blooms well in a pot throughout summer, as long as it gets full sun, and will attract hummingbirds and bees. Mandevilla's glossy green foliage provides a beautiful contrast to the bright petals.
Brothers Grimm Landscaping
The experts at Brothers Grimm can help you select the low-maintenance flowers that make sense for your specific growing conditions – and achieve beautiful results. Contact our expert team to learn more about all the ways we can serve you today.