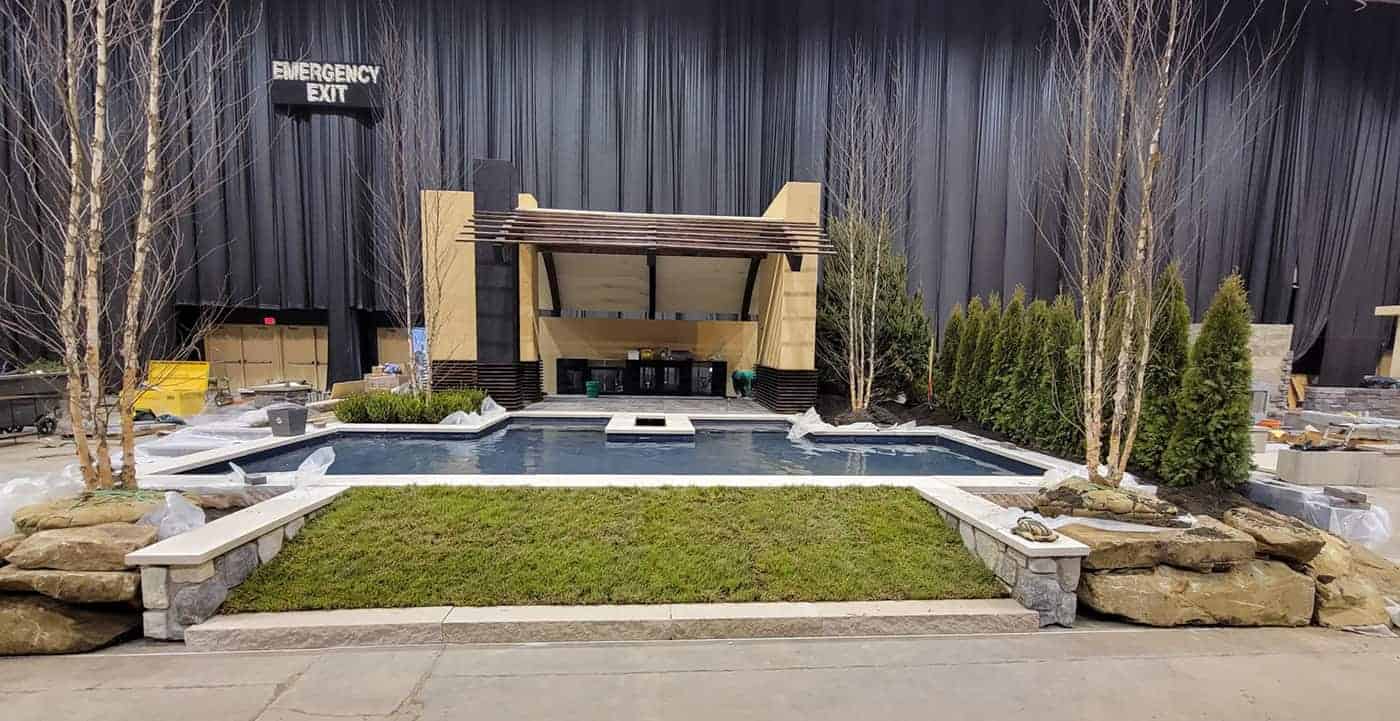 Great Big Home & Garden Show
Nothing says "it's time to get to work" like attending the Great Big Home & Garden Show. Attendees from across Northeast Ohio swarmed to the Cleveland I-X Center February 4-13 to meet with vendors and get inspiration for upcoming projects both in and outside the home. And for the 17th year, Brothers Grimm had the opportunity to show the crowd another knockout backyard design.
Between the stunning displays from area businesses (like us!) and informative presentations from renowned home professionals, the show offered something for everyone. Guests explored more than 600 vendor booths ranging from construction/renovation, landscaping and  housewares to furniture, organization and home services. Read on to see what you missed at the show and to learn more about the booth we created. 
Brothers Grimm Display
The home show's staycation-themed Garden Showcase gave Brothers Grimm another opportunity to show the public what we can do in real life. The show designates a 40'x45' concrete slab for each display, and the rest is up to us to make it realistic. Using our design and creativity skills, 12 BG team members brought to life a backyard oasis with a pool and a pavilion complete with an outdoor kitchen. 
We envision a result, then work toward it using the same materials we deploy on a real jobsite (plus some Hollywood tricks backstage). It's like designing a movie set – it's temporary yet beautiful and safe at the same time.
Our goal is always for people to say, "I could see this in my backyard," and make it feel like a real possibility. Next to the other landscaping vendors, our creativity of design sets us apart, and we always aim to stand out in an impressive way. 
Why Attend the Cleveland Home and Garden Show?
There are so many reasons to attend the Cleveland Home & Garden Show, but here's why we think it's an outing for everyone to benefit from: 
1) One-Stop Shopping
If you need a new microwave and a mower, you can find both under the same roof. You'll also find vendors who can service each of these items (along with other appliances and home systems). It's a convenient and quick trip for busy homeowners with a hefty to-do list.
2) High Quality
The Great Big Home & Garden Show features top-quality exhibitors who know what they're doing, and can recommend the best tools for any job. When you attend, you know you're interacting with trusted professionals.
3) It's Fun!
By February, everyone in Ohio is ready to get out of the house and escape the winter blahs. The home show is a perfect way to get excited for spring, get motivated for projects around the house, and just get away (without having to go far). 
See What Else We Offer
Are you dreaming up a beautiful outdoor space? Brothers Grimm is the landscaping and design partner you need to bring it to life. From luxury landscaping and backyard deck designs to custom pools and more, discover the wide variety of outdoor design and maintenance services we offer: 
Outdoor kitchens

Custom patios and/or decks 

Landscape design 

Swimming pool design 

Ponds/waterfalls
Retaining walls

Outdoor lighting

Planting 

Mulching
Mowing

Aeration

Turf renovation

Pruning
Brothers Grimm Landscape & Design
The home show is over, and since spring is here and summer isn't far behind, it's time to realize the potential of your own yard. Give us a call today at 330-882-4639, or visit our website to get started mapping out your backyard oasis, or planning for maintenance services.