Pool Landscaping & Design
Book your design consultation.
Swim and entertain sooner than you think!
Contact Us
Fill out this form to book a design consultation or call 330-882-4639.
Live your best moments with a beautifully crafted in-ground pool surrounded by personalized landscaping that blends seamlessly with outdoor living spaces and kitchens.
Our expert designers and builders can transform your yard with stone walks, fences, slides and even changing rooms.
Hurry – pools are more popular than ever – and our calendar is filling up fast!
What will YOUR backyard oasis look like?
Don't stop with just a pool. Personalize your pool landscaping. What surrounds your pool? Plants and flowers? A pool house? Stylish sidewalks? A fabulous fountain? We want to help you bring your vision to life!
Let's look at your space, talk about events you love to host and create the spa-like setting with landscaping for beauty and privacy.
What outdoor living experience do you want to create?
Grimm begins with this unique question, because planning for a pool goes beyond simply "Where do you want your pool?"Tell us about your dream pool
Don't Take Our Word For It!
Hear from a satisfied customer.
I have engaged this company several times and have been happy with each encounter. They built me a beautiful out building as well as performed landscaping and snowplow services on numerous occasions. Jacob Grimm is a stand-up guy and his crew is always courteous and professional. I recommend them without hesitation.
40+
Pools installed since 1995
$90-300K
Cost of pools vary greatly based on custom designs
3-4 Months
Time to create your exceptional outdoor space.
Do You Want Just Another Pool – Or Your Own Customized Oasis?
Every pool Grimm does is different – designed for each client's needs and vision. It's your life…and your pool is just the centerpiece of the property where you relax, enjoy your life and entertain friends and family.
In-Ground Pools and Construction – Guaranteed Quality and Craftsmanship
Transform your property with a custom designed and constructed in-ground pool environment that's guaranteed to meet your needs.
Serving customers since 1995, Grimm guarantees products and workmanship – complete with warranties and a walk through one year later to review, inspect and confirm the quality of your in-ground pool project.
Grimm Promises:
Complete construction
Durable vinyl liner
Full design service
Turnkey installation
Creative custom capabilities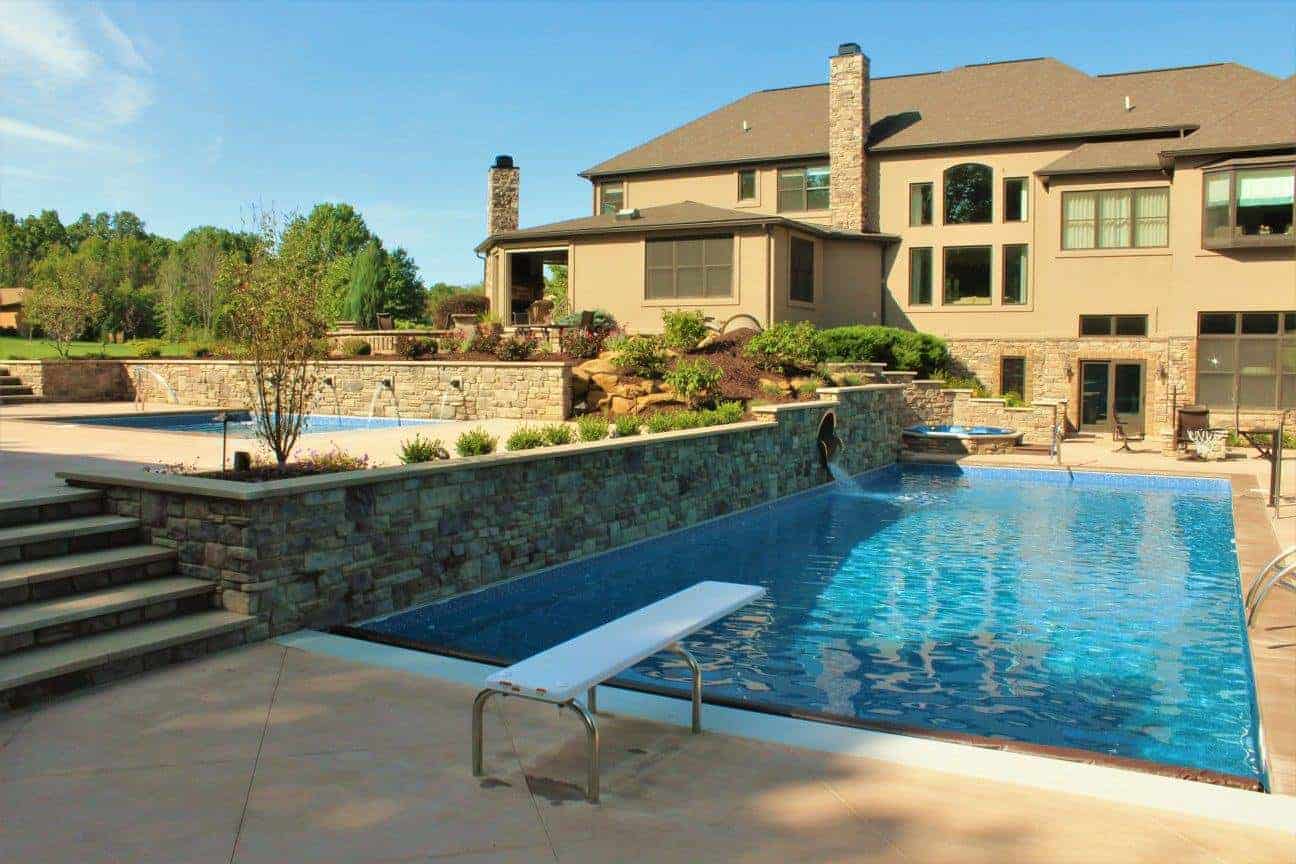 Are You Already Contracted with Another Pool Builder?
Grimm can still help you create your backyard oasis! Beyond pools, we also specialize in other services.
Talk to us about tackling the rest of your outdoor living project! We design customized landscape environments that include trees, shrubs, plants, fences, sidewalks, pavilions, changing rooms and other stylish backyard embellishments.
Grimm can take your pool… and add lots of style.