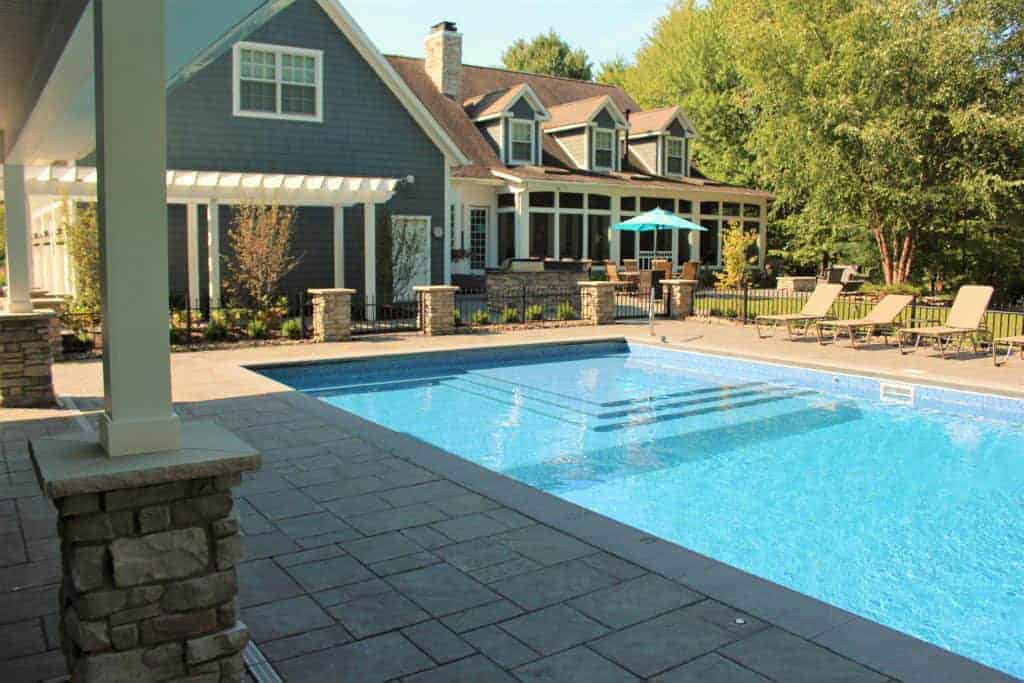 The Process of Pool Design and Installation
Dreaming of lounging in a luxurious in-ground pool in your own backyard? Before diving into a new pool project, it's important to understand the many stages and variables that come into play. Brothers Grimm knows how to transform outdoor spaces with custom in-ground pool designs and personalized landscaping. Learn more about our design and installation process so you know exactly what to expect.
Benefits of a Designed Inground Pool
A luxury swimming pool brings with it many benefits like extreme durability, better aesthetics and complete personalization. Whether you're visualizing a straightforward rectangular pool, a tropical lagoon, a design-centric geometric shape or something even more unique, you'll find resort quality product and service from Brothers Grimm. In part because our designs include both the in-ground pool as well as the surrounding landscape. The complete landscape is designed together including plants, trees, walkways, slides, fountains and so much more. This allows us to think about views, privacy, lighting and other factors all in the same design.
How Brothers Grimm Designs Inground Pools
The process starts with a site meeting where we measure your space and discuss your budget and specific ideas so we can understand exactly what you're looking for in the design. The next step is creating a concept drawing. We meet with our clients in person – either at our office or at your home – to present full-size prints and color renderings of the proposed design. We also offer 3D renderings for an additional cost. Once the initial design is approved, it usually takes us about 4 to 6 weeks to fully quote and polish the design. At this point, we collect a contract deposit, agree to payment terms, and schedule the project.
What to Expect During Installation
There are SO many moving parts to designing and installing a pool landscape. The big difference in working with Brothers Grimm is that we offer turn-key service. While the pool industry severely lacks building standards, we excel with highly trained, specialized subcontractors for our licensed trades. Much like a custom home builder relies on subcontractors for electrical, plumbing, excavation and other specialized elements of the project, so do we. It means you get expertise from many fields, but only have to work with one vendor: us. And like those builders, we always do a spring follow-up for warranty checks so you can have confidence in the install job. 
Personalize Your Backyard Oasis
There's a reason why we complete 6 to 10 pool projects each year and stand out among backyard pool designers. Our detailed designs and workmanship earn stellar reviews with many of our clients saying things like, "it's perfect" or "a dream come true" and "what an amazing difference." Call Brothers Grimm today to start the conversation about personalizing your backyard oasis!