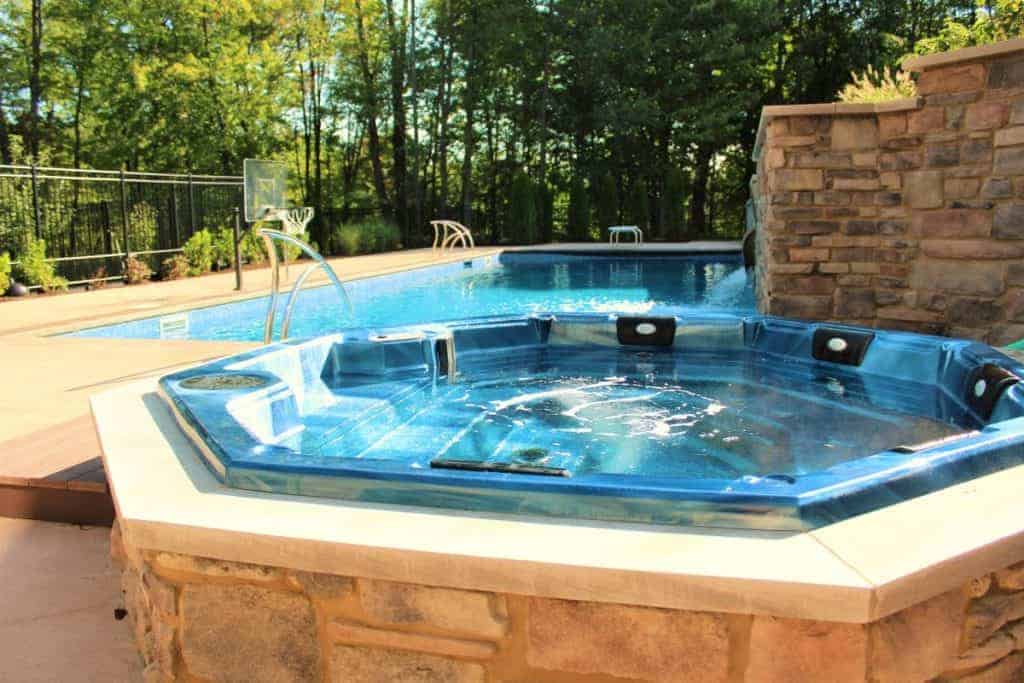 Love the calm, peaceful feeling of being near water? Think a water feature in your yard would be great but don't want the upkeep of a swimming pool? Want to increase your home's value with natural-looking outdoor upgrades that lower your stress levels and drown out ambient noise?
Sounds like your space could use a backyard water feature from Brothers Grimm! We've been in the business of improving Northeast Ohio's outdoor living spaces for decades, so we have lots of water feature ideas that spring from our expertise with inground swimming pools.
Whether your goal is to transform your entire backyard into a watery oasis, enhance the natural habitats you already have or add just a touch of liquid luxury to your al fresco retreat, we can help you reap the water feature benefits of everyday enjoyment and a healthy return on your investment.
It can be overwhelming to navigate all the options out there, so check out our favorites among both wildly ambitious and seriously modest water feature ideas. Outdoor living gets a boatload better when you wade into our suggestions for non-pool backyard water features!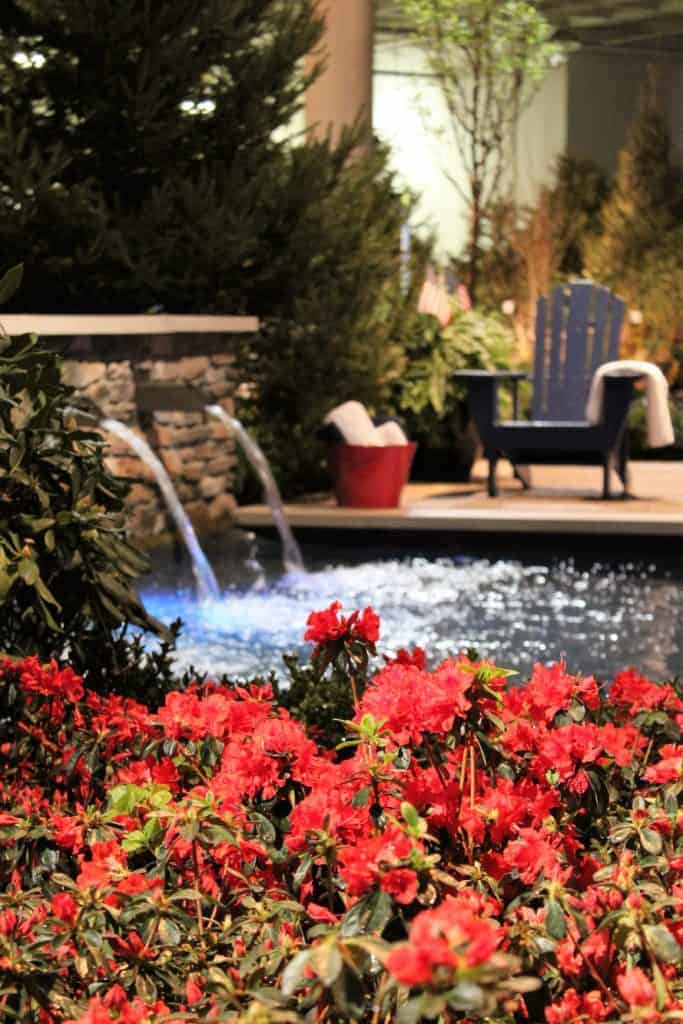 Non-Pool Water Feature Benefits
We get it. Maintaining and caring for an inground pool is a big commitment, and the seasonal joy it brings may not balance that out for everyone. But the mental and physical benefits of being close to a water source are nearly universal — after all, our bodies are essentially two-thirds water!
The benefits you and your family can expect to enjoy when you invest in backyard water features include:
Reduced Noise Pollution
Live in a neighborhood with lots of kids or near a busy highway? Tired of pausing outdoor conversations until your neighbor finishes mowing the lawn or blowing leaves? Feel like every discussion you have outdoors is broadcast across adjacent properties?
A water feature and landscaping offer serious noise-muffling that can make your backyard more comfortable and inviting. Let the gentle burbling of a waterfall or fountain soothe away the jarring sounds of dogs barking, kids playing or trucks braking.
Help Relieve Stress
There's not much more relaxing after a long, stressful day than sitting down next to a babbling brook surrounded by lush greenery. Or taking a nap beside an elegant koi pond. Or sinking into the warm, jetted waves of your very own whirlpool. The backyard water features that Brothers Grimm create focus on creative ways to design backyard seclusion and a sense of luxury that can instantly lower your stress levels.
Increase Natural Habitat
A wide, flat, weed-free lawn may appeal to many people, but it's no place for bunnies, butterflies and birds to find safety or comfort. Welcome your wild critter friends to your backyard stream, waterfall, pond or other water feature with pollinator-friendly plants and sustainable landscaping design. You'll enjoy daily visitors throughout the seasons and lower maintenance worries as you increase your property's natural habitats — and perhaps even help our shared planet become a bit healthier!
Elevate Everyday Enjoyment and Resale Value
A well-designed and implemented water feature benefits your everyday life and protects the long-term investment you've made in your home. Your family gets to enjoy an elevated green space that brings a sense of peace and privacy to every gathering, big or small. Plus, when it's time to list your property, prospective buyers will take note of the added value of your well-tended backyard waterfall or pond — and the flood of competitive bids will reflect your smart choices.
Water Feature Ideas for Your Yard
Feeling inspired about the myriad benefits backyard water features can bring to your family's daily life? We are, too! Find even more inspiration in our gallery of completed projects where every picture tells a story of bespoke backyard dreams made real.
Now let's wade into the Brothers Grimm pool of non-pool water feature ideas for enhancing and elevating your yard.
Captivating Koi Ponds
The word "koi" has two meanings in Japanese. It can refer to the brilliantly colored breed of carp also known as nishikigoi — and it can mean love. If you love the idea of seeing these vibrant fish gracefully navigating your backyard water feature, a backyard koi pond could be your perfect match. The pros at Brothers Grimm understand the special design elements and careful planning that go into creating a koi pond that fosters healthy, happy koi, from appropriate pond sizing to efficient filtration to maintenance for longevity. A koi pond backyard feature can be highlighted with Zen-inspired landscaping, and your space may allow you to combine it with a waterfall or other elements.
Winsome and Wondrous Waterfalls
Cascading water taps into our primordial connection to nature. There's little so calming and rejuvenating as the sight and sound of water plunging over a ledge into an awaiting pool. Whether it's a natural-looking cataract emerging from craggy rocks and lush greenery or a sleek, contemporary water curtain pouring over neatly stacked bricks into a serene reflecting pond — or something in between that suits your personal aesthetic — a backyard waterfall adds a sense of luxury to your property while calming your senses and washing away stress. Plus, waterfalls may attract birds, dragonflies and other pollinators who help keep your property's ecosystem thriving. A Brothers Grimm pro will work with you to understand your vision and offer backyard waterfall ideas that bring it to glorious, flowing life.
Fountains of Flexibility
If you're thinking you don't have the room for any of these water feature ideas, outdoor experts at Brothers Grimm have great news: Fountains offer all the peaceful, beautiful water feature benefits of ponds and waterfalls in a contained and manageable profile that's perfect for a tiny yard, condo balcony or tight patio. And the bonus is that you can get really creative and artistic with the type, shape and size of your fountain! Water can bubble up out of a statue or sculpture, an urn or spillway bowl — we can even design a wall fountain customized to your space that combines the vertical effect of a waterfall with the ease of electrical controls.
The Water Garden Way
Are your twin passions gardening and connecting to the power of water? Feature both in your backyard with a lush, low-maintenance water garden. Also known as aquatic gardens, these backyard water features typically showcase floating plants, like water lilies, irises and rushes. Many also become habitats for aquatic creatures, including frogs, koi and other fish. You can keep it contained in a barrel or tub, but many water gardens are fully integrated into a property's broader ecosystem, giving it the cohesive look of a small backyard pond. We can help you determine the appropriate size, shape and placement of this water feature. We're also ready to add landscaping that fits your aesthetic and educate you on how to monitor pH levels, aeration and more.
Sumptuous Self Care
Of all the backyard water features that upgrade backyard entertainment, we might love an at-home spa the most. But don't tell our swimming pools that! There's just something deeply indulgent about slipping into the warm, jetted comfort of a hot tub in the privacy of your own property after a long, hard day. Level up your family's enjoyment of your al fresco space with year-round water feature benefits that only a whirlpool can deliver, like relief from sore muscles, stress, sinus troubles and more. Whether you pair it with another water feature and landscaping or let it stand alone, you'll love how your self-care gets serious with the convenience of instant relaxation and sumptuous tranquility in your own private at-home spa.
Create Your Water Feature Backyard With Brothers Grimm
Ready to plumb the depths of water feature benefits for your own little piece of paradise? Check out all the Brothers Grimm services on offer — and contact us today to start designing the custom backyard stream, waterfall, koi pond or other water feature that will be your yard's next upgrade.