Backyard landscape design offers homeowners the opportunity to create a personal oasis,  entertainment space, kids play area, or all three combined. As exciting as it may be to take on a makeover project, there are plenty of factors to weigh before you start digging up the yard. When it comes to finances and logistics, it's important to think holistically about the space rather than one flower bed or fire pit at a time. Here are the main considerations for designing your backyard.
How Do You Want to Utilize Your Space?
Designing an outdoor space is more involved than simply picking out patio furniture. Think of it like putting an addition on the house – this space is its own functional area and should increase the home value when it's time to sell. With that in mind, allow yourself to dream big and consider what you've always wanted in a backyard. Then ask yourself a few important questions to help define the design: 
Is this space big enough for what I want to create? 

Do I need a multi-purpose entertainment space and relaxing oasis? 

Will this space feel private enough without adding a fence? 

Does local wildlife impact my gardening gameplan?

What (if any) homeowner's association rules might affect my plans?

Will the kids have enough room to run around? 

Do traffic patterns throughout the yard and into the house make sense?

Can I enjoy the garden from the kitchen window? 

How does the sun impact the space?
Gaining a clear understanding of what you want to create will provide direction to move forward with confidence.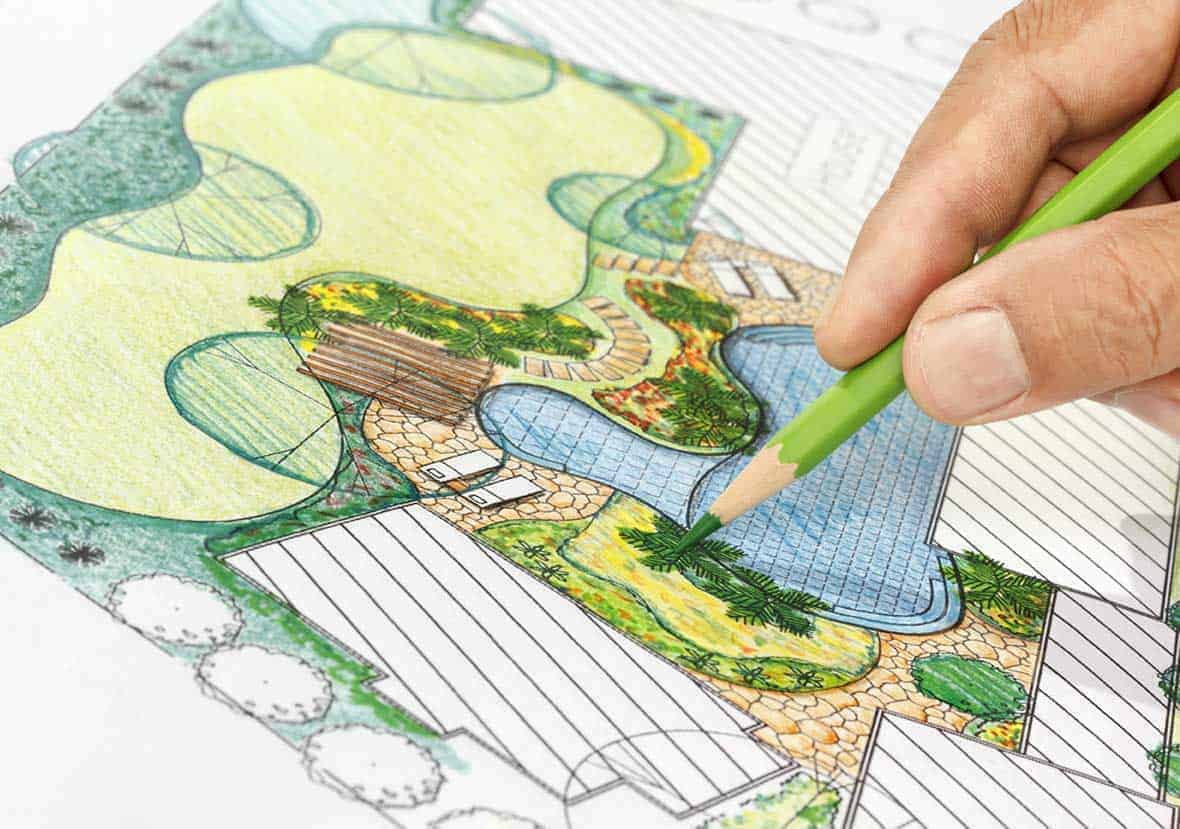 Recognize Maintenance Requirements
Once you know how you want to utilize the space, it's time to consider maintenance requirements. If your design includes a water feature or speakers that require electrical wiring, or an outdoor kitchen with gas line or plumbing needs, start there. Utility lines need to be installed before any pavers, turf or other materials go on the ground. More importantly, you need to have a firm grasp on the maintenance needs of these lines and outlets down the road. 
Additionally, assess the lifespan and possible maintenance needs for any existing structures you plan to include in the landscape design. Does it make more sense to salvage the weathered deck or replace it now while the rest of the yard is a work-in-progress? Don't forget how trees  can impact your space, too. If you want to install a pool near a wooded area, evaluate what leaves and other debris might land in the pool (or demand regular cleaning to remove leaves). If necessary, remove any nuisance trees before you begin
Be honest about the necessary time and financial investment required to maintain your design. If any of these aspects seem daunting, reconsider the plans.
Create a Plan with a Birds-Eye View
Now that you've narrowed down what you want out of the yard, and what you're willing to maintain, make a plan. Start by assessing the landscape from a birds-eye view to visualize various areas within the design. When you look at each large section first, it's easier to add in linking pathways or gardens between them. This view also helps assess the scale of each area to ensure you're allocating ample space for furniture, fountains, and whatever else you want to include.
Some DIY-ers prefer to create cardboard cutouts of various items and experiment with the placement. This helps confirm that the space works as intended and provides exact measurements to order any materials like patio pavers, gravel, etc. 
After you see the big picture, zoom in to each area and start adding the details that bring the vision to life.
Brothers Grimm Can Help You
What outdoor living experience do you want to create? As full-service landscape contractors and pool landscape designers, Brothers Grimm can help your outdoor space realize its potential. Our team of experts will guide you through the process of creating activity zones, selecting materials and plants, designing in-ground swimming pools and other stylish backyard embellishments. Get in touch today.